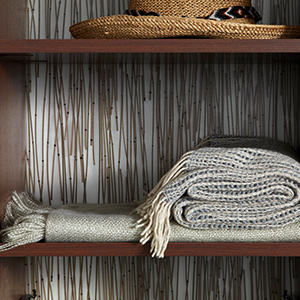 Our Products
At California Closets, we constantly pursue opportunities to provide our clients with environmentally sustainable options, and our products reflect this commitment.

All of our board is compliant with the California Air Resources Board (CARB), which consists of some of the most rigorous regulations for emission standards, and is available in a variety of substrates, including low-emitting formaldehyde. This certification applies to our three finishes – Classic, Lago®, and Tesoro™ – which come in a wide range of beautiful colors and textures.

All of our composite wood doors and drawers are made from recycled or reclaimed wood fiber and can contribute toward achieving credit in both the LEED® 2009 and LEED v4 standards. LEED, Leadership in Energy and Environmental Design, is a nationally recognized system for green building that is administered by the U.S. Green Building Council.

We offer a selection of translucent accents door/drawer inserts and back panels, designed with solid finishes or nature based material that contain 40 percent recycled content and can be reclaimed at their end-of-life stage through the supplier. They are also certified by UL GREENGUARD, an environmental institute that seeks to improve indoor air quality and reduce human exposure to chemicals and other pollutants.

As an industry leader, California Closets continually seeks to increase our environmental commitment. Your design consultant can provide more details to determine which products best suit your sustainability needs. Revisit us as we continue to source new products with sustainable features.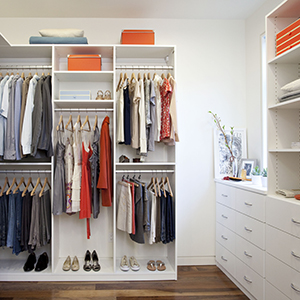 LEED Projects
As part of our dedication to green building technology, California Closets has contributed to two large-scale LEED certified projects in the San Francisco Bay Area, the Margarido House and the Hillside House, both of which were one of the first of their kind.

For more information on our LEED projects and other products with sustainable features, please contact get-info@calclosets.com.
Print Materials
At California Closets, we only use Forest Stewardship Council (FSC) certified paper for our printed marketing materials. FSC is an independent, non-governmental, not-for-profit organization established to promote the responsible management of the world's forests. Products carrying its label are independently certified to ensure that they only come from forests carefully managed to meet the social, economic, and ecological needs of present and future generations. (Note: Paper will vary by location.)